Sewer Extension Projects
Spartanburg Water provides review services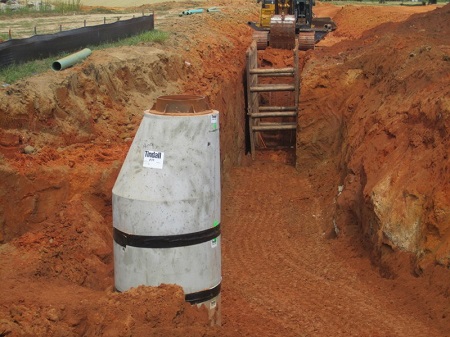 and assists with the applicable SCDHEC Delegated Reivew Program permitting process.
Delegated Review
The resources listed below are provided to assist developers, engineers and contractors with requirements related to sewer main extensions in Spartanburg Water's service area. We require all projects to adhere to the standards and requirements outlined in Spartanburg Water's Technical Specifications for Sewer Distribution System Improvements, available in PDF format. Our Developers' Manual is a guide which outlines Spartanburg Water and Spartanburg Sanitary Sewer District's extension policies and requirements related to design, permitting, administration, construction, inspection, release of taps and service connections.
Resources and Programs
Developer Sewer Extension Project Flow Chart
Developer Sewer Extension Project Checklist
Developer As-built Checklist for Sewer DRP Projects
Technical Specifications for Sanitary Sewer System Improvements
Developers' Manual
Useful Information on Regulatory Agency Websites
SCDHEC Construction Permit Application for Water/Wastewater Facilities
SCDHEC Sewer Regulations 61-67
Appalachian Council of Government 208 Water Quality Certification
Sewer Standard Construction Detail Drawings
The following details are provided to familiarize developers, contractors and engineers with Spartanburg Water typical design details or to assist in the preparation of plans. Any modifications to the details shown should be conveyed to the assigned Spartanburg Water Project Manager.
Related Standard Constuction Details
Autocad

|

PDF

Construction Detail No. 1: Standard Precast Manhole

Autocad

|

PDF

Construction Detail No. 2: Standard Precast Manhole Joint Detail

Autocad

|

PDF

Construction Detail No. 3: Plan of Manhole Inverts

Autocad

|

PDF

Construction Detail No. 4: Standard Manhole Frame & Cover

Autocad

|

PDF

Construction Detail No. 5: Manhole Entrance "Boot"

Autocad

|

PDF

Construction Detail No. 6: Typical Outside Drop Manhole

Autocad

|

PDF

Construction Detail No. 7: Typical Inside Drop Manhole

Autocad

|

PDF

Construction Detail No. 8: Precast Manhole (Doghouse) Over Existing Sewer

Autocad

|

PDF

Construction Detail No. 9: Typical Concrete Collar Detail

Autocad

|

PDF

Construction Detail No. 10: DIP to HDPE Transition

Autocad

|

PDF

Construction Detail No. 11: Typical Trenching Detail

Autocad

|

PDF

Construction Detail No. 12: Improved Ditch Bedding Detail

Autocad

|

PDF

Construction Detail No. 13: Concrete Thrust Block

Autocad

|

PDF

Construction Detail No. 14: Sewer Force Main/Air Vacuum Valve and Manhole

Autocad

|

PDF

Construction Detail No. 15: Sanitary Sewer and Water Line/Storm Drain Crossing Detail

Autocad

|

PDF

Construction Detail No. 16: Service Line Tap to Manhole

Autocad

|

PDF

Construction Detail No. 17: Typical Sewer Service Connection

Autocad

|

PDF

Construction Detail No. 18: Table of Sanitary Sewer Tap Locations

Autocad

|

PDF

Construction Detail No. 19: Service Line Tap to Existing Sewer Line

Autocad

|

PDF

Construction Detail No. 20: Casing Pipe Bore and Jack Detail

Autocad

|

PDF

Construction Detail No. 21: Carrier Pipe Installation in Casing

Autocad

|

PDF

Construction Detail No. 22: Pipe Supported on Concrete Piers

Autocad

|

PDF

Construction Detail No. 23: Typical Pavement Repair Details

Autocad

|

PDF

Construction Detail No. 24: Pump Station Valve Vault with Bypass Connection

Autocad

|

PDF

Construction Detail No. 25: Hatch with Fall Protection Grating

Autocad

|

PDF

Construction Detail No. 26: Typical Pump Station Fencing

Autocad

|

PDF

Construction Detail No. 27: Duplex Pump Station Electrical Panel, Rack and Awning

Autocad

|

PDF

Construction Detail No. 28: Two-Chamber Grease Trap (Interceptor)