Water Extension Projects
Spartanburg Water provides water distribution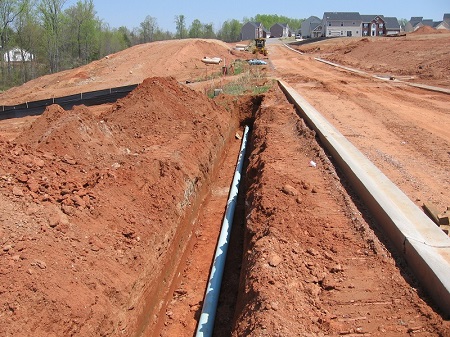 system design services free of charge based on a first come, first served basis. An uncomplicated subdivision or commercial layout can be completed within 45 to 60 days of receipt of the electronic plat from the developer or his representative. Should this period not be acceptable, the developer may retain the services of a South Carolina licensed professional engineer to design the project. Spartanburg Water provides review services and assists with the applicable SCDHEC Delegated Review Program permitting process.
Delegated Review
The resources listed below are provided to assist developers, engineers, and contractors with requirements related to water main extensions in Spartanburg Water's service area. We require all projects to adhere to the standards and requirements outlined in Spartanburg Water's Technical Specifications for Water Distribution System Improvements, available in PDF format. Our Developers' Manual is a guide which outlines Spartanburg Water and Spartanburg Sanitary Sewer District's extension policies and requirements related to design, permitting, administration, construction, inspection, release of taps, and service connections.
Resources and Procedures
Technical Specifications for Water Distribution System Improvements
Developers Manual
Developer Water Delegated Review Program Project Flowchart
Developer Water Delegated Review Program Project Checklist
Useful Information on Regulatory Agency Websites
SCDHEC Construction Permit Application for Water/Wastewater Facilities
SCDHEC State Primary Drinking Water Regulation R. 61-58
Water Distribution Standard Construction Detail Drawings
The following details are provided to familiarize developers, contractors and engineers with Spartanburg Water typical design details or to assist in the preparation of plans. Any modifications to the details shown should be conveyed to the assigned Spartanburg Water Project Manager.
Related Standard Construction Details
We feel that a key to the success of water main extension projects is early communication. Therefore, we ask you to contact us at the outset of a project so that we can assist you. Please contact Joel Watson at (864) 580-5681 or jwatson@spartanburgwater.org if you have questions.