Watering Tips: Protecting your lawn and curbing unnecessary usage
In the South, it can be challenging to navigate the hassles of lawn care in an unpredictable climate, particularly when hot weather can begin early in the spring and last well past the beginning of fall.
We encourage all of our customers to consider the amount of water it takes to protect your lawns and gardens from hot temperatures and drought conditions.
Did you know that every inch of standing water that collects on an acre of land can equal more than 27,000 gallons?
According to Clemson Cooperative Extension, most turf grasses need about half an inch of water in coarse, sandy soil and one inch of water in heavy or fine-textured soil. These amounts will moisten the soil to a depth of four to six inches. However, if you cannot apply this entire amount at once because of water running off from the lawn, apply about half an inch at a time and allow the water to soak in before you continue. In general, bermuda grass needs a total weekly application of about 1 to 1 ¼ inches of water. Sandy soils often require more frequent watering, for example, ¾-inch of water every third or fourth day. For more information on watering lawns refer to Clemson Extension.
Once you water, do not water again until you observe water deficiency symptoms. Never water the grass every day except during the establishment of newly seeded, sodded or sprigged lawns. Watering every day with a small amount will encourage a shallow root system, making the grass less drought tolerant. Try to stretch the interval between waterings to as many days as possible to encourage the development of deep, extensive roots. Once you choose to water, continue watering. Encouraging the lawn to break dormancy and then not watering again will exhaust the plants and can cause injury.
Water early in the morning; it is the most efficient and beneficial time. Water evaporation is minimized so that a high proportion of the applied water is used by the grass plants. Also, early morning irrigation may curtail the development and spread of diseases.

Other tips:
Use the catch-can test to make sure your lawn is using only what it needs:
Set four identical cans at various distances from the sprinklers within the spray pattern of the sprinkler zone. Write down the location of each can and turn on the sprinkler zone for 15 minutes.
After 15 minutes, turn off the zone and measure the water level in each can with a ruler. Write down the amount of water inside each can. Differences in the amount of water in each can will tell you what areas within each zone need more or less water.
Move or adjust the sprinkler nozzle to make each zone more efficient.
Pour all the water into one can, which equals the amount of water your sprinkler system delivers in one hour.
Based on this number (inches per hour), you can determine how long the sprinkler must run to provide your lawn with the amount of water it needs. For example, in June, a typical Kentucky bluegrass lawn needs about 1.5 inches of water a week, which means you should water your lawn about a half inch three times a week. Smaller watering cycles are better than large, so do not water your lawn the full weekly amount in one day. Follow these guidelines:

May – 1.2 inches per week

June – 1.5 inches per week

July – 1.5 inches per week

Aug – 1.2 inches per week

Sept. – 1 inch per week
Seasonal Sewer Averaging Policy
Sewer charges are normally based on water usage. Spartanburg Water uses seasonal averaging to adjust sewer charges for spring and summer residential water use that is not returned to the sewer, such as lawn and garden watering, car washing, and filling pools. Spartanburg Water uses the customer's average winter billed water consumption to adjust the sewer charge.
Irrigation Meters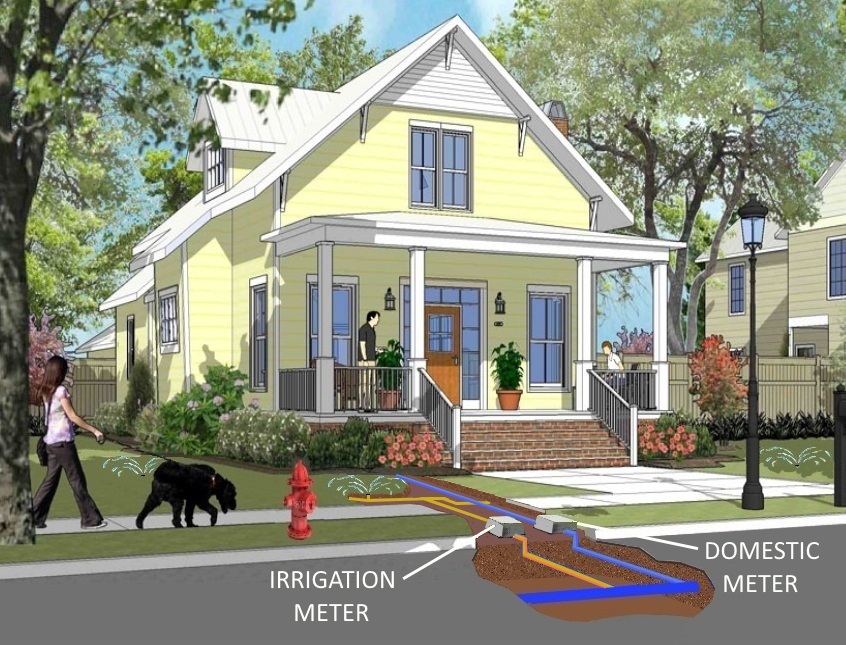 An irrigation meter is a separate tap and meter connection that is installed to supply water for outdoor purposes, including lawn irrigation, swimming pools, gardening or greenhouses, and they may provide a cost benefit for customers connected to the public sewer system who use water for outdoor purposes. Because the water measured by the irrigation meter does not flow into the sewer system for treatment as wastewater, there are no sewer charges, requiring the customer to pay for only the water and the base charge for services. Irrigation meters may be subject to additional regulatory requirements for backflow prevention and annual testing. The costs for testing vary and are the sole responsibility of the customer.
The customer is responsible for installing and maintaining the line that connects the irrigation system or other plumbing system to the meter, but Spartanburg Water maintains responsibility for the installation and maintenance of the tap, meter and line from the water main to the meter site.
There is a one-time cost for the meter and its installation by Spartanburg Water of $750.
For more information about installing an irrigation meter, call our New Connections Team at (864) 583-7361, or visit our Main Office at 200 Commerce Street in downtown Spartanburg.
For more information on irrigation meters, click here.