Community Benefit Program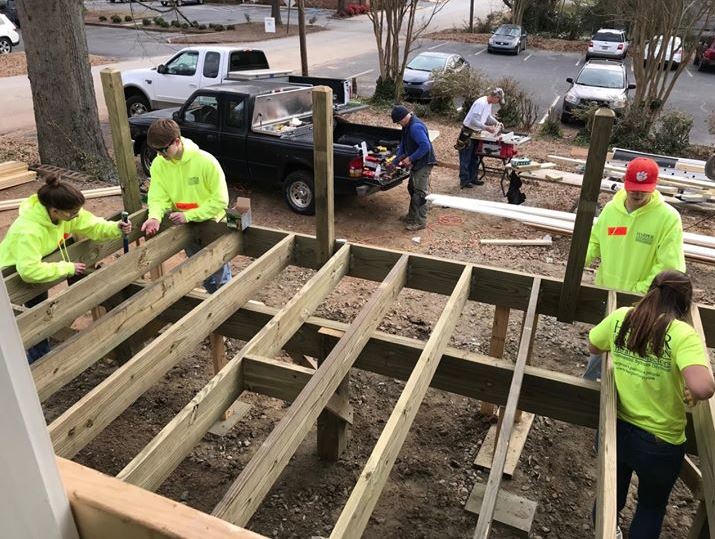 Spartanburg Water recognizes that its mission includes not only being a good steward of the District's resources, but it also includes using those resources for the benefit of the surrounding community. One method that Spartanburg Water may use is Community Benefit Agreements. As such, Spartanburg Water authorizes and approves the use of Community Benefit Agreements. The Chief Executive Officer develops and implements procedures and guidelines for this Community Benefit Policy consistent with this Procurement Policy.
Spartanburg Water is one of just a few organizations in the country utilizing a Community Benefit Program and the only organization in the state of South Carolina. Since being added to the Procurement Policy in 2015, 18 vendors have participated in the Community Benefit Program and contributed their resources to the betterment of the Spartanburg Community.
Our Community Benefit Program is an initiative that is designed to benefit the community within the Spartanburg Water service area. With their participation in projects for, and contracts with, Spartanburg Water, suppliers are encouraged to participate in community benefit programs. Below are some of the examples of possible community benefit programs:
Workforce Development: This can include on-the-job training, internships, employment opportunities, and the overall needs of the local community when it comes to employment obstacles.
Economic Development: This can include contracting with local companies, small businesses and hiring local workers. It can also include supporting programs and organizations that develop local businesses and business owners.
Environmental Programs: This can include supporting programs that promote healthy, livable and sustainable communities such as the creation and maintenance of parks, community gardens and public open spaces as well as the protection and recreational use of rivers and tributaries. This can also include supporting programs that promote the care and preservation of natural resources.
Education: This can include mentoring or tutoring within local school districts, support for scholarship opportunities, or support of programs that provide support and investment in local area schools and education.
Community Pride
Businesses activein our program in 2016 and 2017 and the nonprofits that they supported:
AECOM: in the planning stage for a volunteer opportunity in School District 2
Bennett Equipment: monetary donation to TOTAL Ministries and United Way of the Piedmont
Brown, Caldwell, & Haskell: education session with 5th grade students in District 6
CH2M: volunteer hours at Project Hope Foundation Work Day
Cintas: monetary donation to United Way of the Piedmont
Cummins Atlantic: monetary gift to United Way of the Piedmont
Dillard, Inc.: monetary gift to Meeting Street Academy
E.W. Wachs: monetary donation to Red Cross
Harper Corporation: hosted career workshops for and made monetary donations to Junior Achievement, workday for Habitat for Humanity
Haskell: monetary donation to Habitat for Humanity
Hazen and Sawyer: monetary donation to United Way of the Piedmont (photo above of Chris Ericksen, Hazen and Sawyer, and Monica Greene, UWP)
Hulsey, McCormick, & Wallace: monetary donation to Miracle Hill
Hydrostructures: monetary donation to United Way of the Piedmont
IndSpec Systems: monetary donation to Safe Home Rape Crisis Center
Layne Inliner, LLC: monetary donation to YMCA of Greater Spartanbug
Linde Group: monetary donation to JumpStart prison rehabilitation ministry
McAbee, Schwartz, & Halliday: monetary donation to Arts Partnership, Walker Foundation, and Charles Lea Center
Republic Services: Thanksgiving food drive to benefit TOTAL Ministries and monetary donations to Spartanburg Soup Kitchen
Rodders and Jets: monetary donation to United Way of the Piedmont
Roebuck Wholesale Nursery and Landscaping: monetary donation of an annual scholarship to Spartanburg Community College
Shred Away: Community Shred Day
SouthData: monetary donation to Spartanburg Area Chamber of Commerce
Southern Utility Supply: Spartanburg Chamber of Commerce
Spartanburg Public Works Department: monetary donation to the Spartanburg Salvation Army to provide a camera van
Weston & Sampson: monetary donation to Mobile Meals of Spartanburg
Wharton Smith: monetary donation to Hope Center for Children, Upstate Warriors Solution, Mobile Meals, and Charles Lea Center
Wiedemann and Singleton, Inc.: monetary donation to Hospice Care of South Carolina
For more information on how your organization can be a part of our Community Benefit Program, contact Remsen Parrish, Purchasing Manager, at rparrish@spartanburgwater.org.