Community Benefit Program
Spartanburg Water recognizes that its mission includes not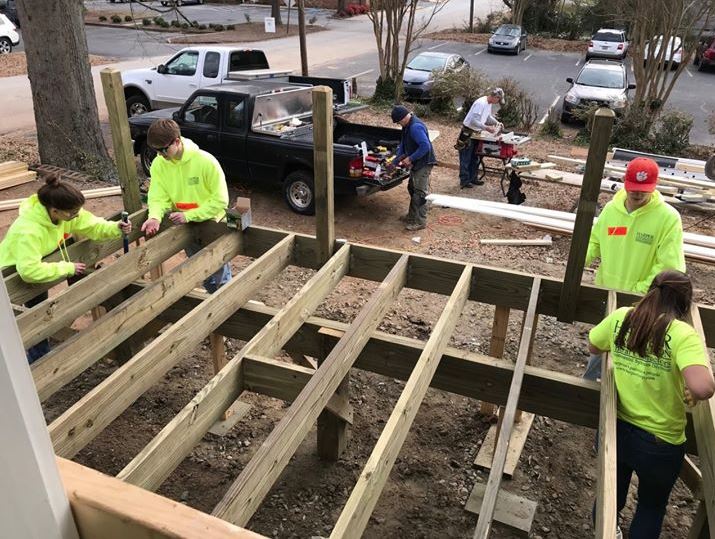 only being a good steward of the District's resources, but it also includes using those resources for the benefit of the surrounding community. One method that Spartanburg Water may use is Community Benefit Agreements. As such, Spartanburg Water authorizes and approves the use of Community Benefit Agreements. The Chief Executive Officer develops and implements procedures and guidelines for this Community Benefit Policy consistent with this Procurement Policy.
Spartanburg Water is one of just a few organizations in the country utilizing a Community Benefit Program and the only organization in the state of South Carolina. Since being added to the Procurement Policy in 2015, 18 vendors have participated in the Community Benefit Program and contributed their resources to the betterment of the Spartanburg Community.
Our Community Benefit Program is an initiative that is designed to benefit the community within the Spartanburg Water service area. With their participation in projects for, and contracts with, Spartanburg Water, suppliers are encouraged to participate in community benefit programs. Below are some of the examples of possible community benefit programs:
Workforce Development: This can include on-the-job training, internships, employment opportunities, and the overall needs of the local community when it comes to employment obstacles.
Economic Development: This can include contracting with local companies, small businesses and hiring local workers. It can also include supporting programs and organizations that develop local businesses and business owners.
Environmental Programs: This can include supporting programs that promote healthy, livable and sustainable communities such as the creation and maintenance of parks, community gardens and public open spaces as well as the protection and recreational use of rivers and tributaries. This can also include supporting programs that promote the care and preservation of natural resources.
Education: This can include mentoring or tutoring within local school districts, support for scholarship opportunities, or support of programs that provide support and investment in local area schools and education.
Community Pride
Businesses active in our program from 2018-2020 and the nonprofits they supported:
AECOM: Monetary donation to Access Health Spartanburg
DemTek, LLC: Monetary donation to Hope Center for Children
Dillard, Inc.: Monetary gift to Meeting Street Academy
Greenstone Construction: Monetary donation to the Daniel Morgan Tech Center
Harper Corporation: Workday for Habitat for Humanity
Hazen and Sawyer: Monetary donation to the United Way of the Piedmont
HDR Engineering, Inc. of the Carolinas: Monetary donation and workday for Hatcher Garden
Hulsey, McCormick & Wallace: Monetary donation to Hope Center for Children
Hydrostructures: Monetary donation to United Way of the Piedmont
Infrastructure Solutions Group: Monetary donation to Urban League of the Upstate
NAPM: Monetary donations to the Pacolet-Glendale Blueway Fund and SPACE
National American Pipeline Management: Monetary donation to Spartanburg County Foundation
Republic Services: Twice-yearly food drives to benefit TOTAL Ministries and monetary donations to Spartanburg Soup Kitchen
Sunbelt Janitorial Group: Monetary donation to YMCA of Spartanburg
US&S, Inc.: Monetary donation to Leadership Spartanburg
Waste Connections: Monetary donation to Mobile Meals of Spartanburg County
Wiedemann and Singleton, Inc.: Monetary donation to Spartanburg Regional Hospice House
W.K. Dickson Community Infrastructure Consultants: Monetary donation, cleaning supplies and dedicated work day at Hope Center for Children
For more information on how your organization can be a part of our Community Benefit Program, contact Remsen Parrish, Purchasing Manager, at rparrish@spartanburgwater.org.