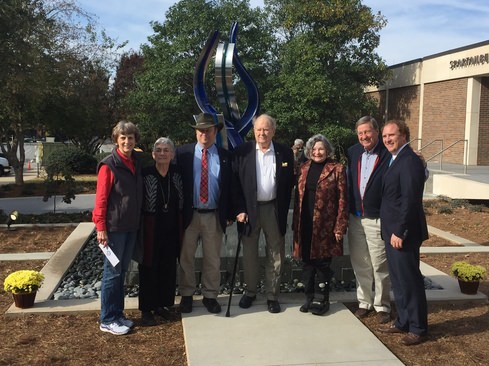 Linda Powers Bilanchone's Fountain Dedication
November 11, 2016.
By Sue G. Schneider, CEO
This morning we dedicated our beautiful new sculptural fountain in honor of former Commissioner Linda Powers Bilanchone's service to the community.
The fountain, designed and constructed by a team of artists, architects and planners, is an exciting new contribution to the Spartanburg landscape. But, more important, it is an illustration of what we do. It's constructed out of stone, polished steel and hand-blown glass and features a series of bubblers that create the calm, soothing sound of cascading water.
We could think of no better way to commemorate Linda's 24 years of service.
Water from the fountain recycles itself, which allows us to showcase the beauty of water while we're actively conserving it, as well. As a utility, that's what we do every day, for hundreds of thousands of people. We couldn't have done this without Linda's leadership.
Please take time out to stop by and enjoy our new fountain.