Watershed Staff Rescues Severely Injured Bald Eagle at Reservoir #1
February 14, 2020.
Watershed Specialist, James West, was making his weekly rounds on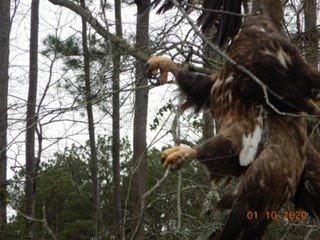 January 10 to inspect Reservoir #1, when he noticed a young American Bald Eagle hanging upside down from a tree branch. Upon further inspection, West found the young eagle tangled in a fishing line and lure.
West called Lake Warden Chris Horrell, who then quickly called Wild at Heart – a wildlife rehabilitation nonprofit in Piedmont, SC – to help staff remove the bird from the tree and provide medical assistance.
"Because an eagle is classified as a raptor, Wild at Heart can only keep it for a certain amount of time. They essentially triaged it, and then sent it on to a rehabilitation facility," West said.
Mike Hoskinson of Wild at Heart took the lead on rescuing the eagle with assistance from West and Lake Wardens Horrell and Adam Coyle. Spartanburg Water staff said the eagle was passive and weak when it was found, and they were not sure it would survive.
Yet since its arrival on January 11 at the nonprofit, Carolina Raptor Center in Huntersville, NC,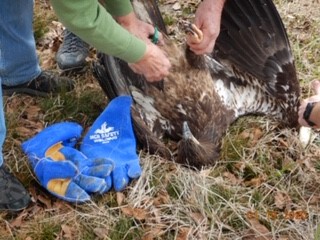 the young eagle is faring well.
"It has gained tremendous weight," West said. "We don't know exactly how long it hung there [in the tree], but the eagle is at full weight now, weighing a third more from when it was found."
It is not known if the eagle is male or female, but is in its second year, since it does not have the telltale white feathers that Bald Eagles are known for when they reach three years old.
West said it is too early for the Center to tell if the eagle will be able to return to the wild. Surgery to remove part of one talon on each foot was successful, but the Center has not determined when and if it will be released back into the wild.
If the eagle is fully rehabilitated and able to return to the area, West has requested that it be released to one of our three reservoirs. If the bird is not releasable, it will likely be used for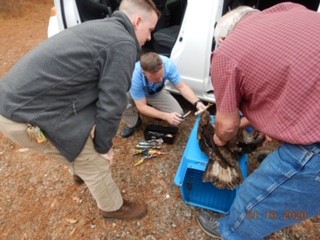 education and/or exhibit.
"Time will tell," said West.
Medical staff at the Center update their patients' medical progress every day. If you'd like to follow the eagle's progress, go to:
http://raptormed.carolinaraptorcenter.org/cgi-bin/RaptorMedCGI.exe?page=search.html and type in the eagle's ID number 23047.
For more information about Bald Eagles' breeding and nesting in South Carolina, go to the SCDNR's webpage on eagles here: http://www.dnr.sc.gov/wildlife/baldeagle/biology.html.