Before it's Back to Business, Don't Forget to Flush Your Pipes!
Wednesday, May 20, 2020
As businesses gradually begin to open up as outlined in South Carolina Governor Henry McMaster's COVID-19 response, Spartanburg Water is giving guidance on flushing pipes in order to ensure good water quality when doors reopen.
If a building has been empty or under-used for an extended period of time, it is important to "flush the water lines" to move out older water and bring in fresh water.
The issue is not the quality of water Spartanburg Water produces. As required by the Environmental Protection Agency's (EPA) drinking water regulations, our treatment process kills viruses like COVID19. The drinking water we provide to nearly 200,000 customers is high-quality and, most importantly, safe.
That being said, the quality of water that has been sitting in the internal plumbing of an empty or under-used building can decline, potentially resulting in taste and odor issues, discolored water, and bacteria growth.
Outlined below are a few simple steps that you can take to avoid this, and instead, bring in a fresh supply.
How to flush: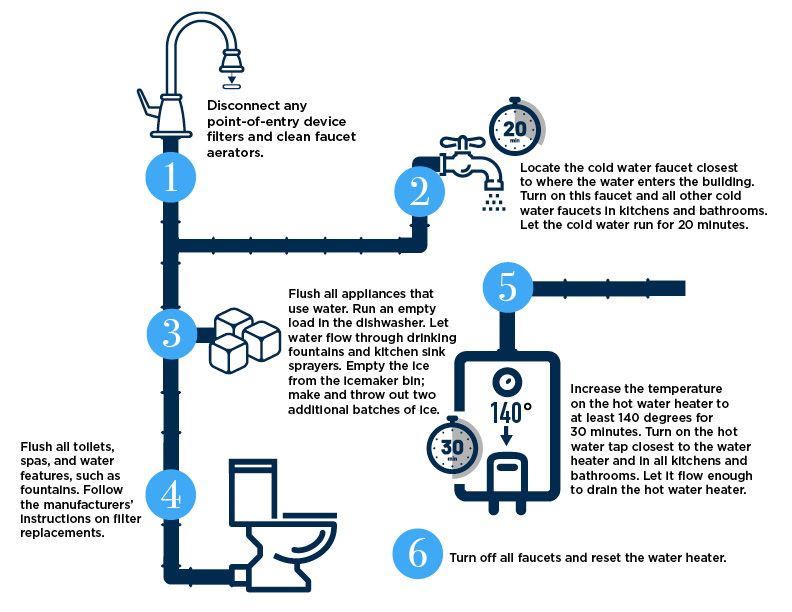 What to flush:
All appliances that use water including faucets, drinking water fountains, kitchen sprayers, dishwashers, ice makers, toilets, hot water heaters, spas, and decorative water features.
Who should flush:
Any facility, business, church, school, or office building that has been empty or under used.
For additional, industry-specific information and guidance, please visit here.