Third Choose Tap water refill station dedicated at Monarch Cafe
December 6, 2017
SPARTANBURG: We unveiled our newest Choose Tap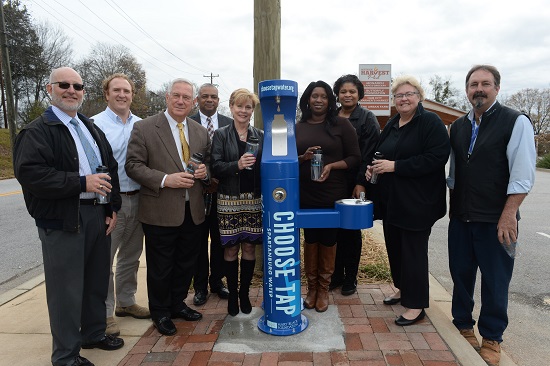 water bottle refill station at the Monarch Cafe, part of the Northside Initiative. Thanks to our partner, the Mary Black Foundation, making it possible. We'd love some great photos of you using the refill station. Post them on our Spartanburg Water Facebook page or tweet them!
Since beginning the Choose Tap program last year, more than 8,000 people in Spartanburg have made a pledge to drink more water and Choose Tap over bottled water. These pledges will help our community stay healthy, fight obesity and show pride in our community, all important messages that are championed by the Way to Wellville.
As a community leader, we want to share this special moment with you, with more unveilings as the program gains momentum.
Be Bold, Be Brave and Be Well … by Choosing Tap!
ABOUT SPARTANBURG WATER: Spartanburg Water, an award-winning utility, is comprised of Spartanburg Water System and Spartanburg Sanitary Sewer District. It serves a population of more than 180,000 within Spartanburg County, as well as others in parts of Greenville, Union and Cherokee counties. With the help of its dedicated team of more than 250 employees, each day it produces an average of 25 million gallons of drinking water and cleans 12 million gallons of reclaimed water for its customers and community.