Lake Bowen Park Improvement Project
Over the past decade our Lake Bowen Park has become a special destination to the local community. Each year, we welcome thousands of visitors who enjoy the many wonderful recreation opportunities – including boating – and this number continues to grow every year.
In an effort to provide a safer and more enjoyable experience for all visitors, starting October 19, Spartanburg Water System will begin numerous projects that will touch the entire park.
One of our greatest focuses will be on safety. By adding additional parking spaces around the upper loop of the park, and designating that area's boat landing for non-motorized watercraft, we can better separate vehicle traffic and visitors enjoying the park for non-boating purposes.
For those visiting the park with motorized watercraft, we will be adding an additional boat landing and adding additional parking for vehicles with boat trailers at the lower portion of the park. This will also allow for a safer separation of visitors and vehicles, while allowing for more direct access for those using these two boat landings.
Our planned project schedule is slated to take seven months. It will be divided into two phases – the first focusing on the construction and paving projects; with the second focusing on landscaping and other shoreline improvements.
For those who take advantage of our boat ramps, we will be making every effort to keep at least one boat ramp open during the entirety of the project. And our park playground and restrooms will also remain open, unless our team determines it is a safety risk –in which case any closure would last for a very short period of time.
Thank you for your continued support as we work to preserve water quality and invest in one of our community's favorite destinations. For questions and concerns, please contact Jon Morgan, Chief Lake Warden and Project Manager – (864) 580-2518.
__________________________________________________________________________________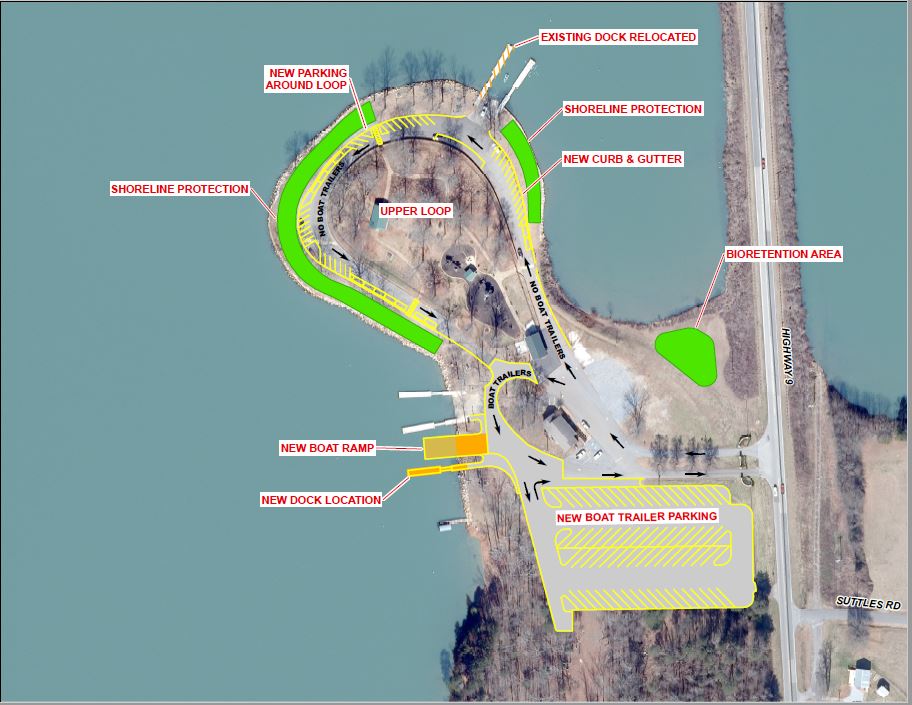 Planned projects fall into the following categories:
Safety
Enhanced traffic flow around the park to better separate those visiting the park for boating, and those walking, picnicking, fishing and enjoying the playground. This includes the addition of parking spaces around the upper loop of the park for vehicles without boat trailers.
Designation of an existing boat ramp in the upper loop for non-motorized watercraft.
Improvements
Construction of a dedicated parking area for vehicles with boat trailers.
Construction of an additional boat ramp, and relocation of an existing dock to locate all launching and retrieval of motorized watercraft within a centralized area.
Environment
Installation of a curb-gutter system and stormwater outlet improvements to reduce the environmental impacts of stormwater run-off.
Landscaping improvements to enhance shoreline stabilization.